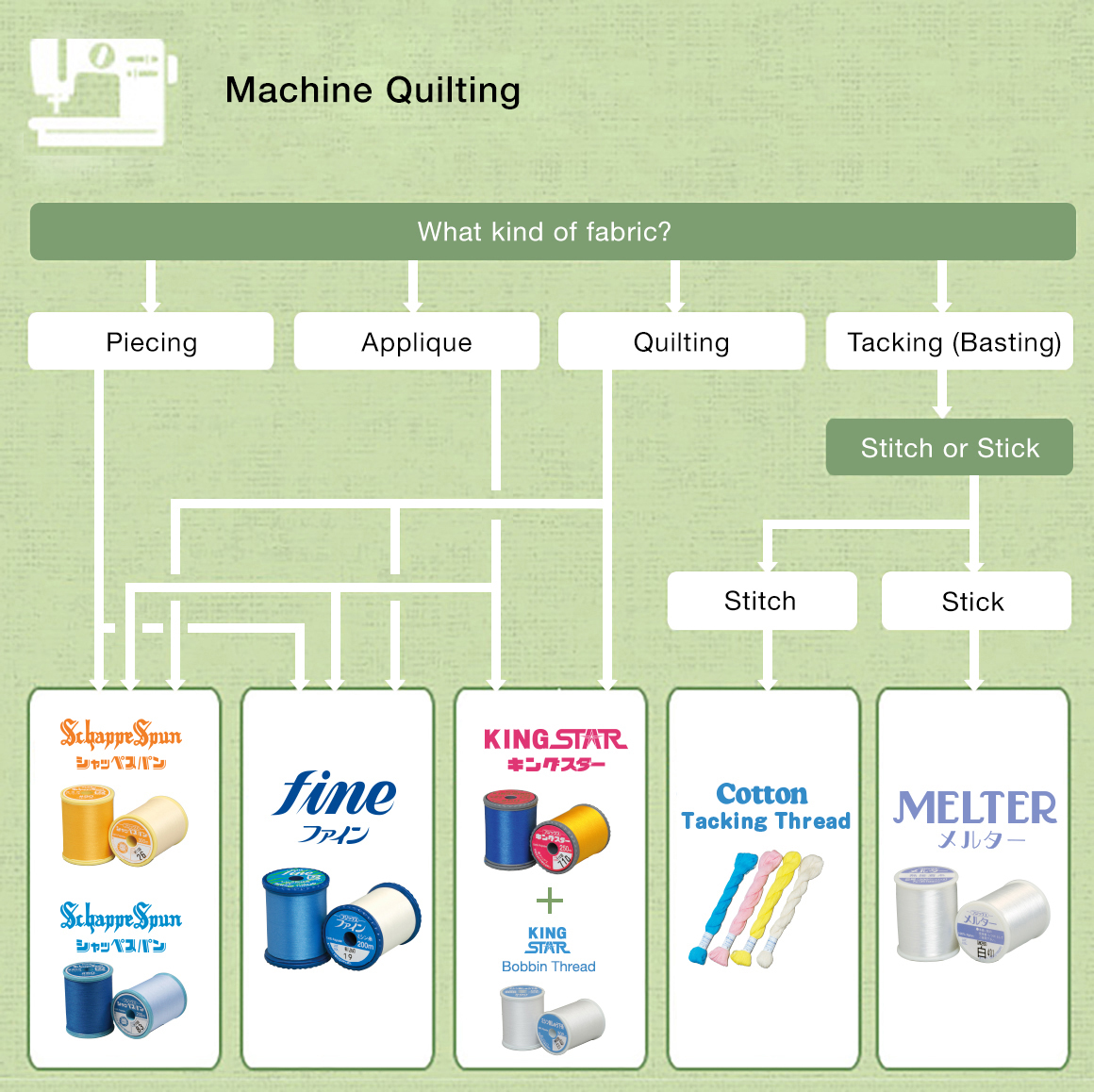 For Piecing, Applique and Quilting
Sewing thread with good sewability and beautiful luster like cotton. Thanks to its softness and moderate stretchability, it is fit to fabric. Durable sewing thread which makes beautiful seams without shrinkage by sewing.

For Piecing, Applique and Quilting
Polyester sewing thread which looks like silk. Durable thread which is thin and smooth with beautiful luster. It finishes with soft and nice seams.

100% Polyester
#50/250m in 260 colors
#50/200m in 12 colors (Metallic and Aluminum colors)
Sewing machine needle No.11-14

For Piecing, Applique, Decoration and Embroidery
Thread with unique luster and softness. It is usable for various purpose, such as embroidery and decoration stitching and so on with stable beautiful seams, because of good sewability and durability

For Bobbin thread
Exclusively for bobbin thread with special treatment to prevent it from coming up to the top of fabric. Unnecessary to change bobbin depending on the color of needle thread.

For Tacking (basting)
100% Cotton thread which is standard for Tacking. Easy to sew and easy to cut by hand. Suitable strength brings it good workability. There are 4 colors choice to match the color of fabric.

100% Nylon
No.2/7g Color: White
No.2/20g Color: White
Gluing by iron (It can be used as bobbin thread in case of machine use.)

For Temporary adhesive
Fusible thread which is easy to tack by iron. Instead of using tacking threads or marking pins, it can be fused by iron temporally. Don't have to remove it like tacking threads. It is also convenient for applique.